Internet of Things (IoT) and Smart cities
Motivation
We live in a more interconnected world. The number of connected devices has been growing at a global level as technology improvements and the reduction of wireless communications costs have enabled businesses, manufacturers, industries and smart cities to connect their products to the Internet of Things (IoT).
In this sense, citizens have to our supply a wide range of services that can make our day to day easier. There are numerous architectures to deploy IoT platforms in different contexts and at different levels, such as within the home, in a company, at a municipal, national or even global level. The most direct impact on the lives of citizens involves our cities and interconnects people and services. In short, it transforms a city into a Smart City.
Overview
SmartCity can be seen as an instrumented, interconnected and intelligent urban ecosystem. Instrumented refers to the ability to capture and integrate data in real time of city life through the use of sensors and mobile devices (IoT technology). Interconnected refers to the integration of these data in an urban computing platform that allows the communication of this information among the various services of the city. Intelligent refers to the integration of complex analytics, modeling, optimization and visualization of services to make better operational decisions for the city [1].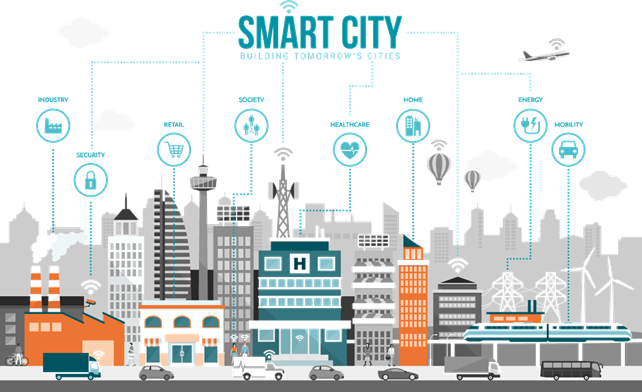 Figure 1. Example of smart city scheme
IoT technologies are fundamental for Smart Cities, since sensors are responsible for collecting data on the state of the city and then disseminate them among citizens. IoT is about allowing things to connect to the Internet, this gets the generation of information, and the interaction of the physical world with the virtual world [2]. Regarding the number of things connected, the following graph shows the evolution of this field from 2015 to 2020. In 2020 the figure of 31 billion worldwide is reached and a value of more than one billion US dollars annually is projected annually as of 2017 [3].
Figure 2. Forecast of number of connected devices (Source: Statista)
In addition to the sensors, there are other elements that make up the SmartCity platforms. In particular, the urban platform València Smart City, better known as VLCi [4], is based on FIWARE. In this sense, Valencia has been the first city to adopt this European Commission standard for smart cities under real conditions. FIWARE is a standard open source platform founded by the European Union, which is characterized by obtaining, storing, processing and displaying relevant information from different sources in real time or through batch processes [5].
In this context, FIWARE is one of the largest European initiatives in the Future Internet area, which develops a set of technology standards to reduce technological barriers to cities and their suppliers. FIWARE provides a set of APIs that aim to facilitate the development of smart applications in multiple vertical sectors.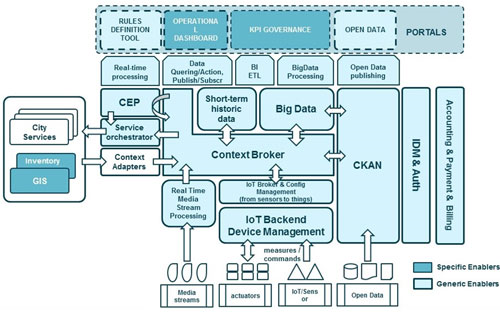 Figure 3. FIWARE architecture
MAtchUP
The MAtchUP project [6] aims to implement a model of integrated and sustainable urban regeneration through innovative solutions in the energy, mobility and ICT sectors. MAtchUP addresses the challenge of urban transformation through the use of leading technologies in these areas with the direct involvement of citizens in the design of their future smart cities. This European project attaches great importance to achieving the creation of smarter and cleaner cities, cities with enough resilience to fight against the effects of climate change while still offering safe, sustainable and affordable energy.
Thus, the objective of strengthening planning processes for urban transformation is consolidated through the implementation of large-scale demonstration projects. This seeks a high penetration of validated technologies in those cities or neighborhoods less prepared to adopt very innovative solutions and formalize them in a commitment that accompanies strategies of creation and development of capacities, to guarantee at least the implementation in the medium term. Substantially improved models are used for replication and scalability based on impact assessment, and they seek to ensure the viability of the solutions through innovative business models, which lead to real deployment beyond the pilots carried out in the Lighthouse cities.
The expected results will be achieved by working in parallel in the levels of demonstration and expansion / replication, so the lighthouse cities (Valencia, Dresden and Antalya) together with the followers (Ostend, Herzliya, Skopje and Kerava) will assume a huge commitment in this project to deploy innovative solutions in the energy, mobility and ICT sectors with a strong monitoring program to validate all results in these vertical pillars.
The role of the UPV in the project focuses mainly on the tasks related to the Urban Platform. In these tasks new services are developed to improve the performance of the city, decision making or citizen participation, among others, guaranteeing interaction between the city of Valencia and its citizens. In addition, all these developments follow the same principles, ensuring that data is open and guaranteeing interoperability through open APIs. For this, the UPV collaborates closely with the City Council and the other partners of the Valencia demonstrator, in order to design the new models and data sets that will be used for the new services and devices integrated in the urban platform (VLCi), as well as the indicators and relevant metrics to monitor the progress and improvements developed in the project, following the most relevant standards in IoT [7].
The key pillars in which smart city services are framed should include:
Mobility, transport and urban planning (Smart Mobility): services aimed at improving urban planning to reduce traffic in the city, optimizing public transport services and promoting sustainable mobility.
Energy and environment (Smart Energy): services aimed at optimizing energy generation, improving water and waste management, reducing polluting emissions.
Smart Living: services aimed at improving the lives of citizens in relation to public safety, health, education or social assistance.
Government and citizen participation (Smart Governance): services aimed at the digitalization and modernization of governments and public administrations, allowing citizens to be involved in making decisions about planning, investments and distribution of resources.
Smart Economy: services aimed at promoting economic growth and the circular economy, creating new business models and employment initiatives.
Smart Urban Platform: transversal services that provide the necessary technological support to enable new services in the city and guarantee transparency and interoperability.
References
[1] C. Harrison, B. Eckman, R. Hamilton, P. Hartswick, J. Kalagnanam, J. Paraszczak, and P. Williams, "Foundations forSmarter Cities," IBM Journal of Research and Development, vol. 54, no. 4, 2010.
[2] S. Cirani, G. Ferrari, M. Picone, and L. Veltri, "Internet of Things: Architectures, Protocols and Standards," ISBN:978-1-119-35967-8, Nov. 2018.
[3] Statista página web, "Internet of Things (IoT) connected devices installed baseworldwide from 2015 to 2025 (in billions),". Disponible en línea: https://www.statista.com/statistics/471264/iot-number-of-connected-devices-worldwide/
[4] València Smart City (VLCi) Plataform. Available online at: http://smartcity.valencia.es/vlci/plataforma-vlci/
[5] FIWARE webpage. Available online at: https://www.fiware.org/
[6] MAtchUP webpage. Available online at: https://www.matchup-project.eu/
Related publications
[7] M. A. Simarro, P. Guzmán, M. A. Rodríguez, P. Arce, G. Piñero, A. González, and J. C. Guerri, "Open standards for the Internet of Things," Waves, vol. 10, pp. 5-14, 2018.